Mason Ramsey is the new viral sensation. Most commonly known as 'Walmart Yodeling Boy', the entire world is now obsessed and can't get enough of him. But here are facts you might not know about the young Mason Ramsey, the Walmart Yodeling Boy!
1.) He sang his first song at the age of three! A singer since he was in diapers, Ramsey's first performance was at the spry age of three-years-old! While his rendition of Hank Williams Sr's, "Lovesick Blues" was absolutely fantastic, we would give anything to watch the adorable three-year-old Mason perform!
2.) Mason picked Walmart to sing at because it is the ONLY store in his town.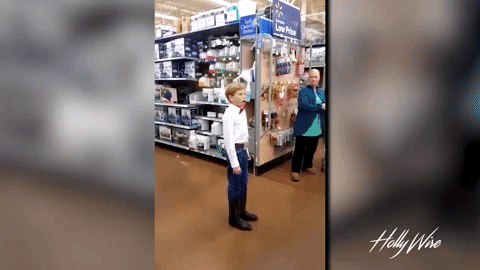 Mason lives in a tiny town in Illinois with his grandparents. His tiny town is populated by only 700 people! It seems like the Walmart was the yodeling boy's only chance at getting an audience!
3.) He has big dreams! Ramsey's big aspirations include saving up money, going to college, moving to Florida, and buying his own motor home!
4.) He doesn't use the internet. Not a big cyber fan, Ramsey considers himself to be a little more old fashioned, which is ironic considering he became famous from a viral video!
5.) His Grandma is his manager! Well, maybe not completely but she definitely manages his social media accounts! Have you ever even heard of a Grandma who knows how to use Instagram?
6.) Mason Ramsey loves playing video games! His account on PS4 is even "WalmartYodelingBoy." The (yodeling) boy sure knows his brand!
7.) Older girls have been trying to date him! Even though he kindly rejected the 8th grade girls who are now crushing on him after his yodeling video went viral, it still doesn't stop them from trying!
8.) He does have a girlfriend! His girlfriend's name is Madison and ever since his fame he hasn't been able to spend much time with her. Poor Ramsey, maybe someday you'll be able to get some alone time away from all your fans!
9.) He has #MarriageGoals Ramsey says he wants wants to get married when he's 20, however he's just dating at the moment.
10.) He knows how he wants to spend his money. The old soul  says he's always wanted a 1955 Cadillac and a 1946 Chevy. He's got a few more years until he can drive, so maybe someday he'll be able to get behind the wheel in his dream car!
Congratulations on your success Yodeling Boy! We love you! Follow Hollywire! | http://bit.ly/TweetHollywire
Follow Diana on Instagram | https://www.instagram.com/dianaespir
Send Diana a Tweet | https://www.instagram.com/dianaespir
Follow us on Instagram | https://www.instagram.com/hollywire
Visit our socials for more lifestyle, celebrity interviews, and entertainment
Follow Hollywire on Twitter!
Follow us on Instagram